Memorial weekend is here! That means the official start of summer is just around the corner. I can't wait! I'm looking forward to lots of swimming, days spent at the park and of course cook outs! First though, we need to make it through the weekend.
If you're anything like me, you didn't take the time to plan ahead and now here you are, two days before Memorial Day without a menu and lots of hungry guest making their way to your house in less than 48 hours. Thankfully, I've thrown together a Memorial Day menu that will be sure to wow your guest!

Black Bean and Corn Salad served with tortilla chips makes a great appetizer and is sure to keep your guest happy while the grill gets fired up!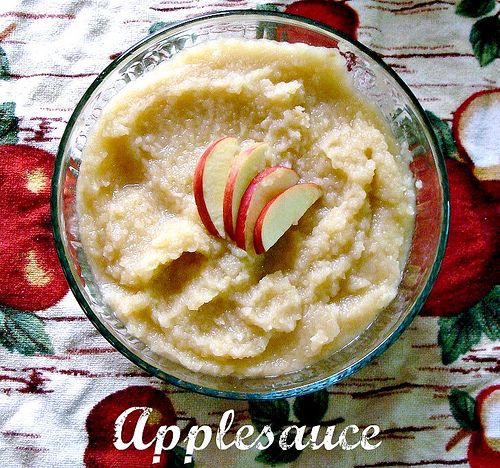 A bowl of Homemade Applesauce will keep the kids quiet without spoiling their dinner.

For your main course, Mushroom and Feta Turkey Burgers are sure to be a big hit!

Or, if your in the mood for chicken, my Lemon Grilled Chicken recipe is sure to please even the pickiest of guest.

Mushroom, Asparagus, and Tomato Salad would be lovely served on the side of the burgers or the chicken.

JoJo's are sure to be a hit with both parents and kids!

Finally, for dessert, some of my Eggless Brownies served with or without ice cream will leave your guest feeling happy and full!
Happy Memorial Day to you all and especially to all of you that have offered the greatest sacrifice for our great country! I wish you all a happy and safe weekend!
*********************************************************************
I would also like to take the time to say a big thank you to Kristina of Whipped for nominating me for the Food Stories Award for Excellence in Storytelling! Kristina is such a sweetheart and her recipes are out of this world! Be sure to check out her page and try a few of her yummy dishes!
As part of this award, I must list one random fact about me. Here it goes: I hated chocolate when I was a kid…especially chocolate cake and frosting! What was I thinking?! No worries, I've gotten over my insanity and am a full on chocaholic now!
I also must nominate 5 other food bloggers that I feel deserve the same recognition. My nominations are in no particular order as they are all amazing!
1.) Georgia of The Comfort of Cooking
2.) Jessica from A Kitchen Addiction
3.) Emily from She Makes and Bakes
4.) Cindy from Hungry Girl Por Vida
5.) Emily from Picnic Bakery
Check out http://foodstoriesblog.com/food-stories-award/ for all the details!
Thanks again Kristina!